HERE Magazine Northwest Indiana
HERE Magazine Northwest Indiana
March 27, 2019

By Kim Ranegar

Photos by Jillian Pancini
Welcoming Woodworkers
Valpo pair opens woodworking co-op to share creative space with others.
After decades of day jobs, two Valparaiso executives are turning their love for woodworking from hobby to moonlight venture by opening the Board Room. Part co-op and part creative laboratory, the Board Room is a dream-come-true for people like owners Bill Oeding and Joe Ubben.
Woodworking is a lot like owning a sports car.
Both men maintain busy day jobs but have been dabbling in woodworking projects for years, in their own garages. "A while back we built a wood kayak together in my garage, which meant kicking my wife's car out for the better part of a winter," shares Oeding, who serves as Valparaiso's city administrator during the day. To be fair, Oeding did warm the car up for his wife, Danielle, each day. "Fellow woodworkers run into the same challenges when working from home—woodworking creates sawdust in basement settings and working in the garage means dealing with Northwest Indiana winters," says Ubben, a long-time marketing professional who currently serves as marketing director for Our Greater Good.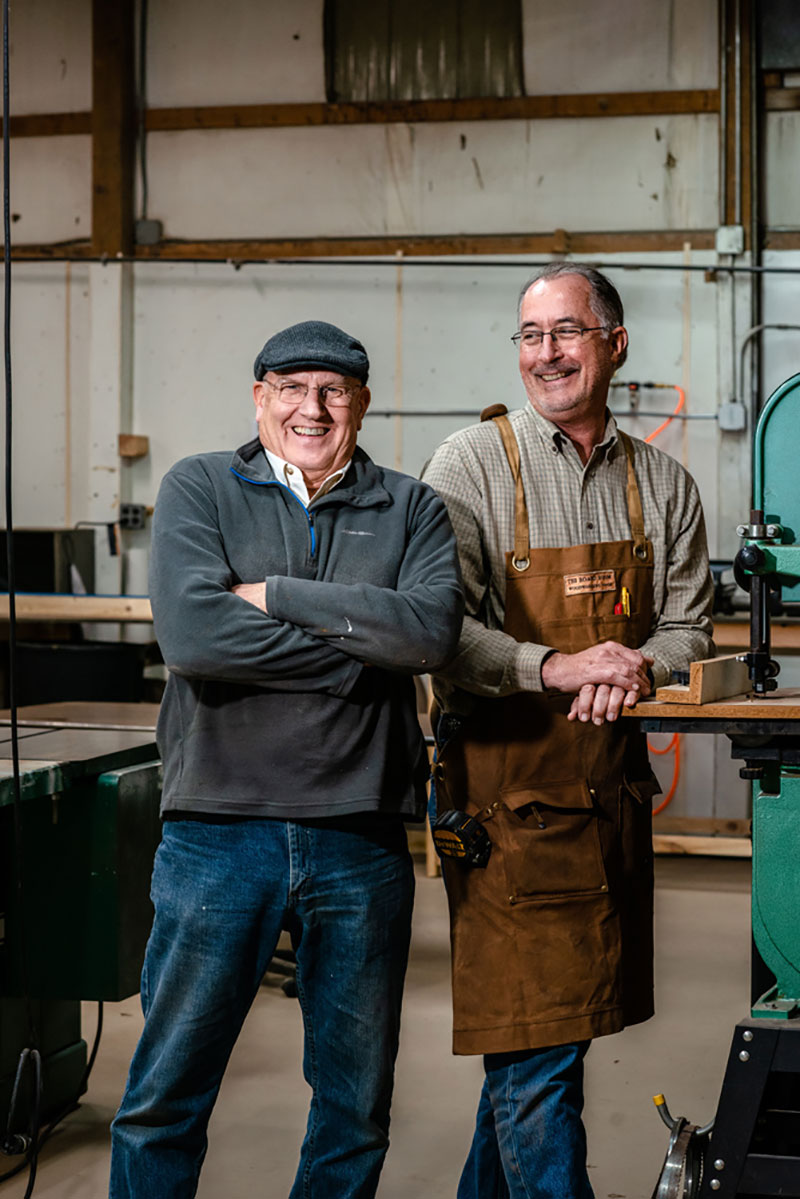 So, the two combined their woodworking artistry with their business acumen to open the Board Room, an 1,800-square-foot cooperative workshop, open for memberships. They considered other names, such as the Splinter Group and 9 Fingers, ultimately letting their wives settle on the Board Room.
Members of the Board Room enjoy 24-hour access, sharing space and equipment as well as expertise and ideas with other woodworkers. "What we have here is a notch or two above most home shops that may have been assembled with equipment from big box stores," Ubben says. The equipment has been carefully curated from the estates of dedicated woodworkers who valued quality craftsmanship. "Woodworking is a lot like owning a sports car," he says. "There's always something more that you want, but we don't want for much here."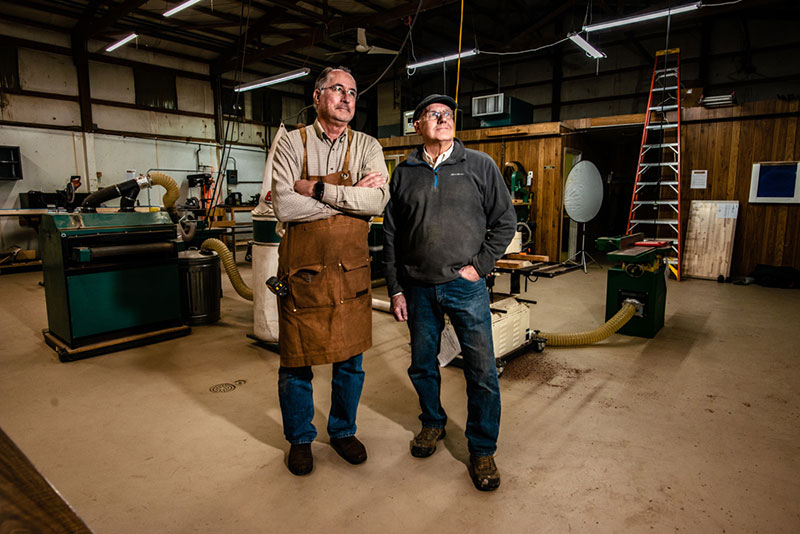 The equipment is only one component, however. "Our goal is to have a cordial group of people who like to do woodworking and are willing to share and learn from each other," Ubben says. Oeding agrees. "I was recently talking with a fellow woodworker in his 60s and he told me he'd never met a woodworker he didn't like. Our co-op is about building that community where we're helping each other, pitching in and learning a craft," he says, adding that when talking of woodworking, many people think of guys. "Yet there are ladies out there who we know we could learn from. We're also interested in learning more about design here and CNC [computer numerical control] work, so we're open to different talents and levels of experience," he says.
Eventually the pair would like to offer some classes to spark interest and introduce woodworking to a new audience, perhaps bringing in a teacher to lead the group, similar to wood shop classes of yesteryear.
"In the good old days, people went to work and could say, 'Hey, I built that.' But, in most of the decisions we make today, you don't have a tangible outcome. Woodworking is very rewarding for giving you that sense of satisfaction, looking at what you've accomplished," Ubben says.
Both partners continue to create and experiment with projects. Ubben recently finished a kitchen island for his wife, Victoria, and Oeding is working on an autographed baseball holder for the grandson of a friend. The Board Room is a place for them to continue learning and collaborating.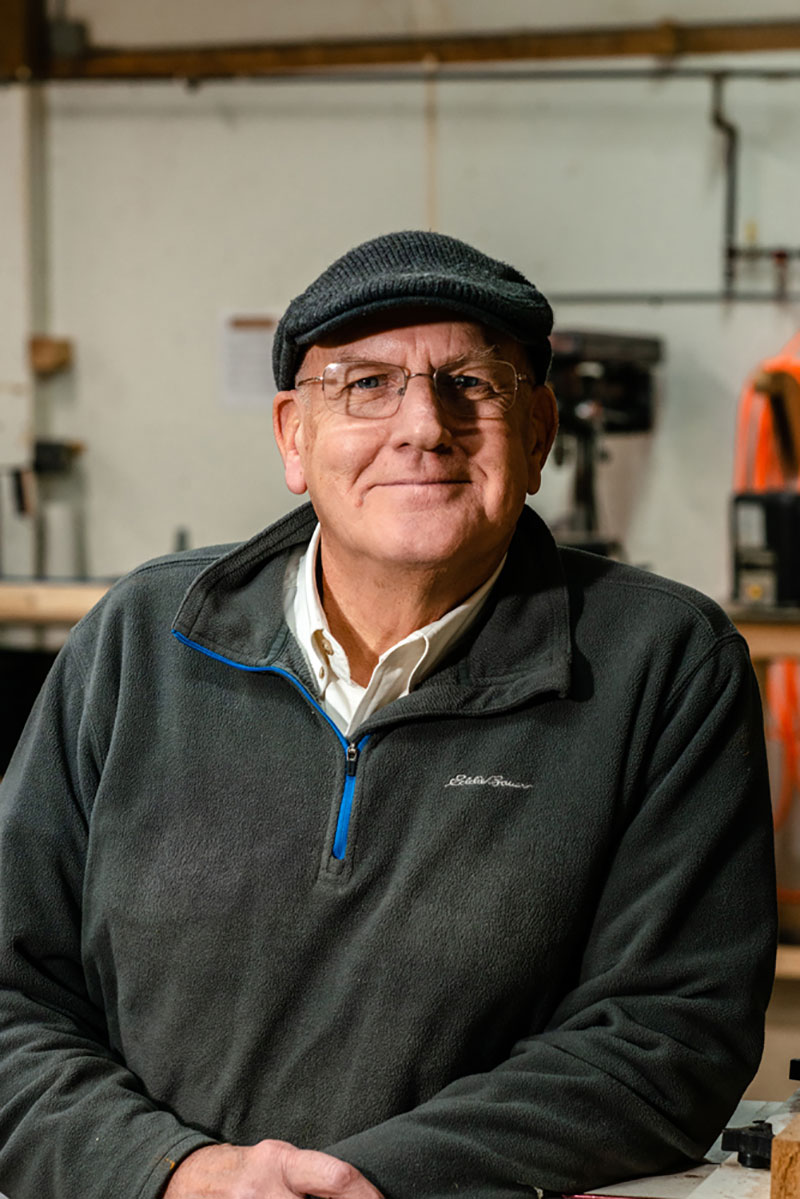 The Set Up
Members of the Board Room enjoy 110- and 220-volt electrical, comprehensive dust-collection equipment, two air filtration systems, LED lighting, pull-down electrical cords, compressed air access throughout, and abundant prep and sanding tables.
The atmosphere is relaxed as tunes play in the background. Noticeably absent is a clock, which may be added as both Oeding and Ubben admit that they can lose track of time when working on a project.
Find It Here
The Board Room
456 S Campbell St, Unit C, Valparaiso
theboardroomvalpo.com
To get involved, prospective members (18 and older) are invited to come in for a free tour and interview, with mandatory training required before working in the space.