HERE Magazine Northwest Indiana
HERE Magazine Northwest Indiana
FEBRUARY 26, 2019

By Kim Ranegar

PHOTOGRAPHY BY: Various
Local Getaways
Months of snowy sidewalks and gray skies have us longing for a getaway where we can reconnect with nature or share time with loved ones. We found three nearby spots that inspire us to pack our bags and forward our mail indefinitely.
FLAMINGO RANCH
Lakeside, Michigan
Nestled in a forest, just a half-mile from Lake Michigan, Flamingo Ranch is a four-bedroom retreat, complete with amazing outdoor spaces for groups to gather. The retro ranch has been professionally decorated by designer-owners in a breezy coastal style. Friends and family will all have a spot, including a four-bed bunkroom and modern kitchen with all the tools for communal cooking.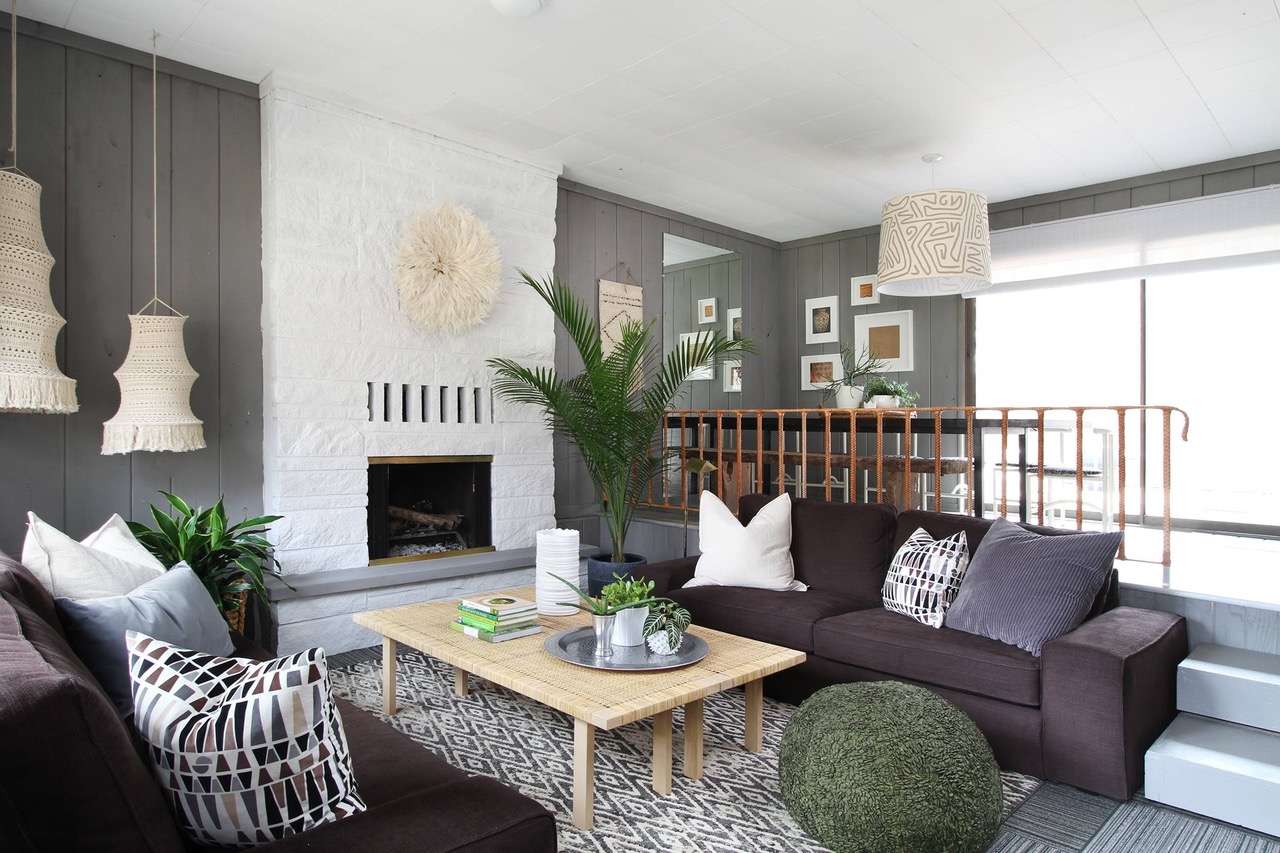 Step outdoors to the heated plunge pool (an elevated pool, surrounded by wood deck and chaise chairs), fabulous cabana and bar, and even a 20-foot tall teepee. There's plenty to do on-site, but Pier Street Beach is just a 15-minute walk away. Or, go antiquing along Red Arrow Highway, hike nearby at the Robinson Woods Forest Preserve, visit Warren Dunes State Park, and refresh at Greenbush Brewing Co. in nearby Sawyer.
Book it:
Available for daily and weekly rentals (minimums depend on season). Contact steve@steveandfilipdesign.com.
Photo credit: interiors by David Sparks; Exteriors by Steve Somogyi
FARRAND HALL
Colon, Michigan
Situated in Amish farm country, Farrand Hall offers a unique experience for guests with its 1854 Greek Revival home, 12 acres of woods and prairie, and neighboring farms. A magical spot for gatherings and events, Farrand Hall welcomes guests from the grand entry hall, cozy library and parlor, to the four guest rooms (three with sitting rooms and one with an ensuite bath complete with clawfoot tub), and a fully outfitted kitchen. Purchased in 2017, owners James and Jacob have lovingly restored the home, added modern amenities, and sourced period furnishings to create a warm and historic ambiance, perfect for overnights or events from bridal showers to family holidays to photo shoots. During warmer months, guests enjoy the BBQ grill and outdoor garden festooned with a ceiling of lights.
Book it:
Available for events, photo shoots, and overnight getaways. Contact info@farrandhall.com or visit farrandhall.com.

Photo credit: James Gray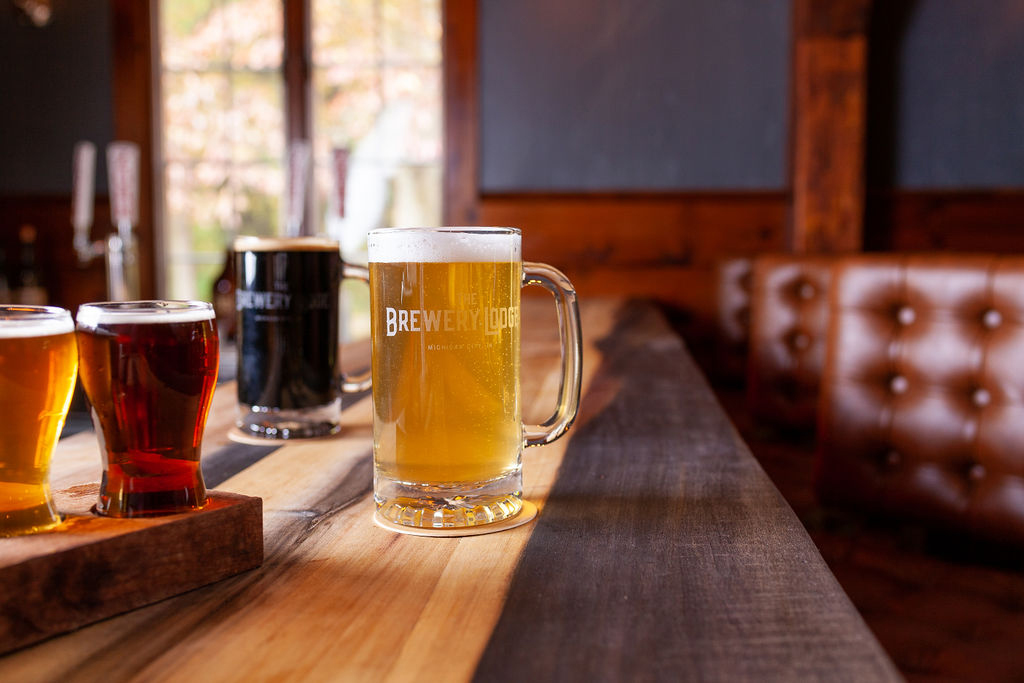 BREWERY LODGE
Michigan City, Indiana
The 14-room boutique hotel is a creative partnership between neighboring Shady Creek Winery and Zorn Brew Works. Surrounded by 31 acres of wooded land with streams, ponds and wildlife, the historical former inn and corporate retreat has been transformed into the modern, rustic Brewery Lodge, with hand-hewn beams, cozy fireplaces, and wood-paneled walls. Downstairs, you'll find a rustic bar (open to the public), serving Shady Creek and Zorn favorites, along with an assortment of regional craft beers and wines, plus an ever-changing bar and dinner menu by Chef Kelly Cahalan.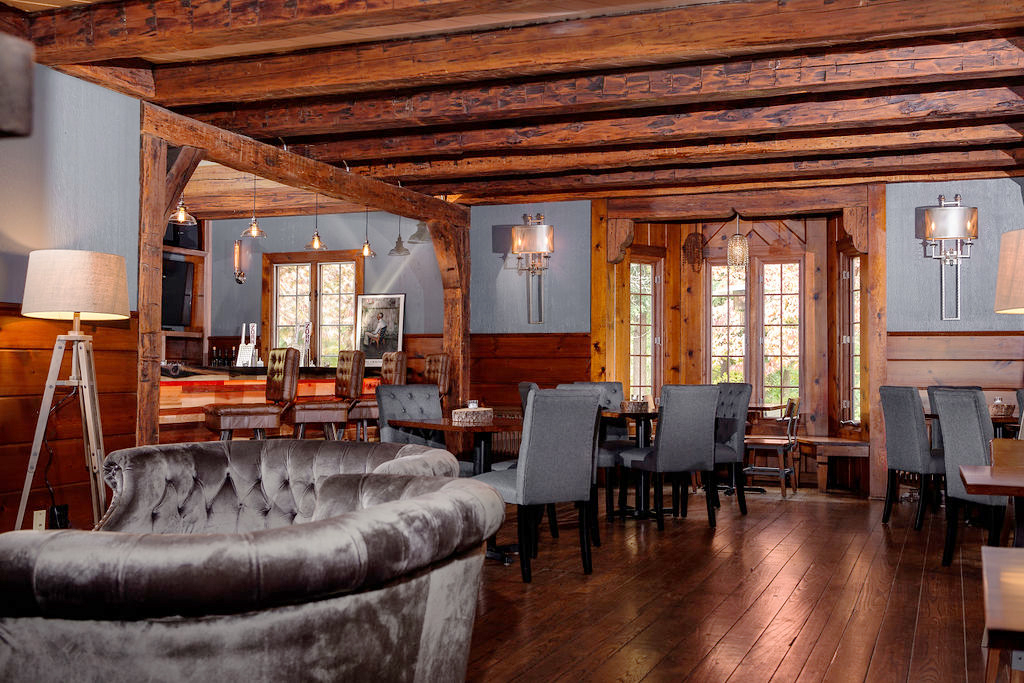 On-site event space is available for hosting your own private party, or book an excursion on the Lodge's own 13-passenger van, which offers tours of eight breweries in the surrounding Northwest Indiana and Southwest Michigan area.
Book it:
Available for overnight getaways, events and brewery excursions. Visit brewerylodge.com.
Photo credit: WeCreate Media
HERE Magazine
HERE magazine is a quarterly print publication and daily website that celebrates community . . . the people and places that make the northwest corner of Indiana increasingly unique.