HERE Magazine Northwest Indiana
HERE Magazine Northwest Indiana
April 3, 2019

By Amanda Wilson

Photos by Michelle Hamstra
Derby Dames Dominate
Inside the bold, empowering world of women's roller derby.
Action-hero dreams of fearless stunts and daring adventures aren't limited to little boys and boys-at-heart. Girls and women, too, yearn to race, compete and conquer. Little action-hero wannabes grow up to hold stable jobs and keep families together, but the inner adrenaline-junkie remains.
We strive to assist and support smaller local charities close to our skaters' hearts.
Roller derby is for women looking for their next adventure. The contact sport, complete with falls and collisions, started out as a form of roller skating racing in the 1920s and evolved into its current form in the late 1940s. Roller derby games, also referred to as bouts, consist of two opposing teams with each team scoring points by passing members of the opposing team. The Illiana Derby Dames, established in 2012, is a nonprofit organization whose team members hail from Northwest Indiana, Northeast Illinois, and the South Shore area.
The bouts provide feel-good entertainment that builds women up while giving back to the community through donations and volunteer work. A local charity is selected for each bout; all proceeds go to the selected charity, and Dames are actively involved in community outreach throughout the year. "We strive to assist and support smaller local charities close to our skaters' hearts," says Dame Sarah Cantrell, who goes by Scare N' Dippity on the rink. Charities the Dames have supported include INFEAT, South Suburban Humane Society, and the Cancer Support Center of Homewood. Community outreach includes supporting region residents in need, such as when team members took part in a Lynwood softball tournament for two local policemen diagnosed with cancer, as well as yearly participation in Girls on the Run and 500 Turkeys. "We only hold one major fundraiser a year for the league," Cantrell says. "Everything else we do is for charity."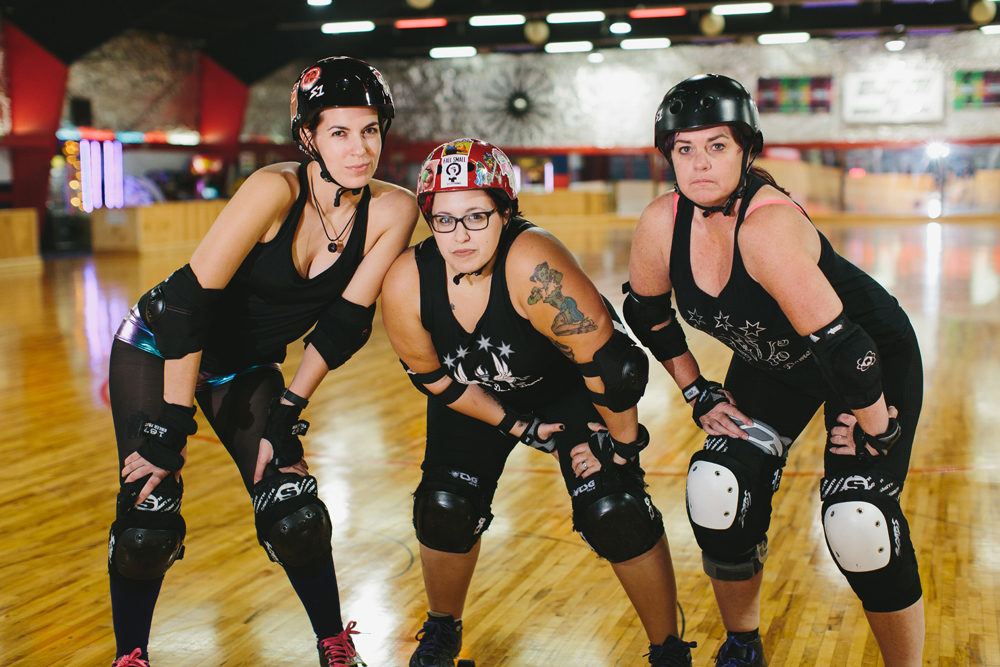 Christine Bunton was a stay-at-home mom to two small children five years ago, and she recalls being "bored out of my mind" when she found out about the IDD. She fell in love with roller derby from her first skate. "I was never athletic and I never played a team sport," says Bunton, whose derby name is Eve Iscerate. "I hadn't skated since childhood before that first practice. But, I loved roller derby from the start."
Cantrell recalls watching her sister-in-law participate in roller derby bouts. "I would go watch her and think, 'These girls are crazy, there's no way I could ever do that.'" After watching from the sidelines for two years, she came to roller derby boot camp at her sister-in-law's urging. "I went to the first practice and almost didn't go back because I was so sore after." Yet she stuck it out, thanks to the support of her husband and friend who teamed up to watch Cantrell's four children, including twin toddlers, which she says made her twice weekly practices possible. Inspired by Cantrell, her husband and friend recently joined local men's derby league Chicago Bruise Brothers. "They now have first-hand knowledge of why I love this sport so much," she says.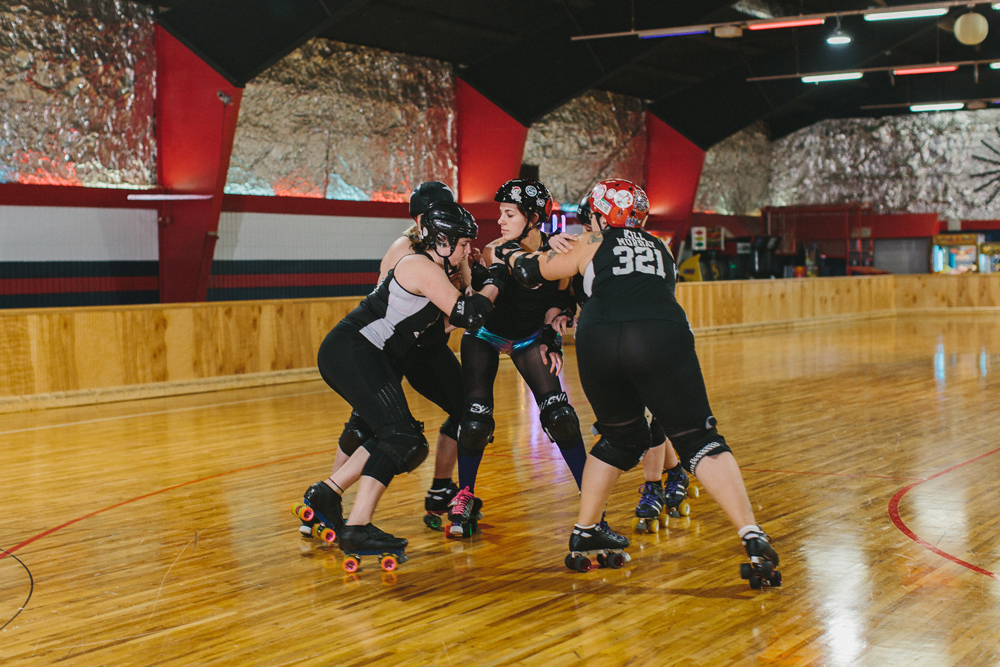 Roller derby is not a dainty sport and not for the faint of heart. Practices and bouts include warmups, and players exercise off-skate and strength train, but injuries do happen. In one bout, Cantrell dislocated a knee, relocated it, and iced it for 10 minutes before rejoining to finish the game. Bunton says the adrenaline rush of roller derby far outweighs the risk of injury. "It's so fulfilling to be taking care of your body in such a powerful way."
In a culture that all too often objectifies and dismisses women based on body type and age, a sport that celebrates and empowers women is refreshing. "Derby builds up your strength whether you're short, tall, fat or thin," Bunton says. "We have 50-year-old women holding their own with 18-year-olds. A tiny, skinny body maneuvers into tight spaces. A large, strong body is a major asset for assertive maneuvers. There's a place for every body type. Roller derby has built my confidence and self-esteem like nothing else has."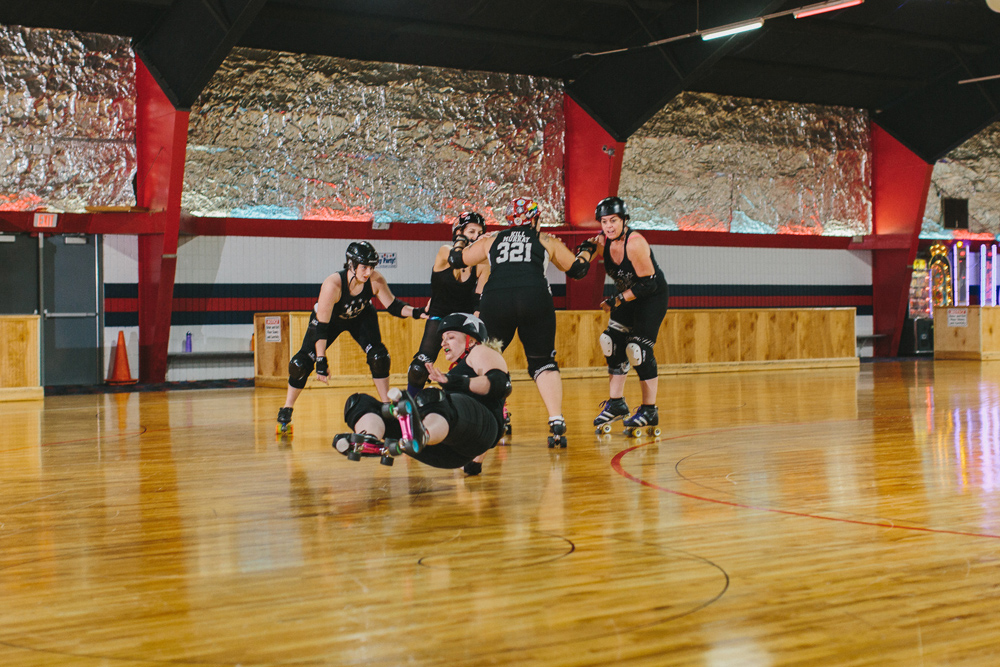 Just as body type or age shouldn't deter anyone from roller derby participation, Amanda Hughes, aka Nan Slaughter, emphasizes that you don't need to be an experienced athlete or skater to take part. Though she'd wistfully watched a friend participate in roller derby, Hughes initially lacked the confidence to try it herself. But, with the encouragement and support of IDD members, she went to boot camp in summer of 2018 and is now one of the league's newest members. "I still suck, but not as badly as I did when I started," she says. "I'm learning skills and making amazing friends in the process."
And, Hughes enjoys the support and admiration of her husband and daughter. "My 5-year-old tells everyone we come across that her mom plays roller derby," she says. "Her little eyes light up when I say, 'Mommy has to go to practice now. Be good for Daddy,' and she says, 'I love you Mommy! Kick some tush at roller derby!'"
Ready to roll?
Interested participants, sponsors and local charities who would like to partner with the IDD can contact the Illiana Derby Dames board at illianaderbydames. Look for details on upcoming games at illianaderbydames.com or on their Facebook page. Follow the Dames on Instagram at @illianaderbydames.